Eugene Kitchen & Bath Remodel 2018
Castile Construction, Inc. is the top local kitchen and bathroom design and remodeling contractor in Lane County. We specialize in kitchen and bathroom design to make your kitchen and bathrooms functional and beautiful!
This page shows a Eugene kitchen and bathroom remodeling project we recently designed and completed for a couple living in the Eugene South Hills. We also updated the living room with new flooring and paint to complement the new kitchen.
When Mike and Laura came to us, their home had experienced some water damage from a leaking dishwasher, and they were looking for a fresh start. This kitchen and bathroom were outdated and ready for a facelift!
Mike and Laura raised their kids in this home, and now with almost all the kids out of the nest, they wanted to reinvest in their future in the home, and design these spaces to enjoy for many years to come. One of the main goals was to to bring light into the dark kitchen and improve the poor kitchen layout that existed.
Like all of our remodels, we began with our personalized design process to meet all of the goals outlined. Here is the design layout for the kitchen remodel: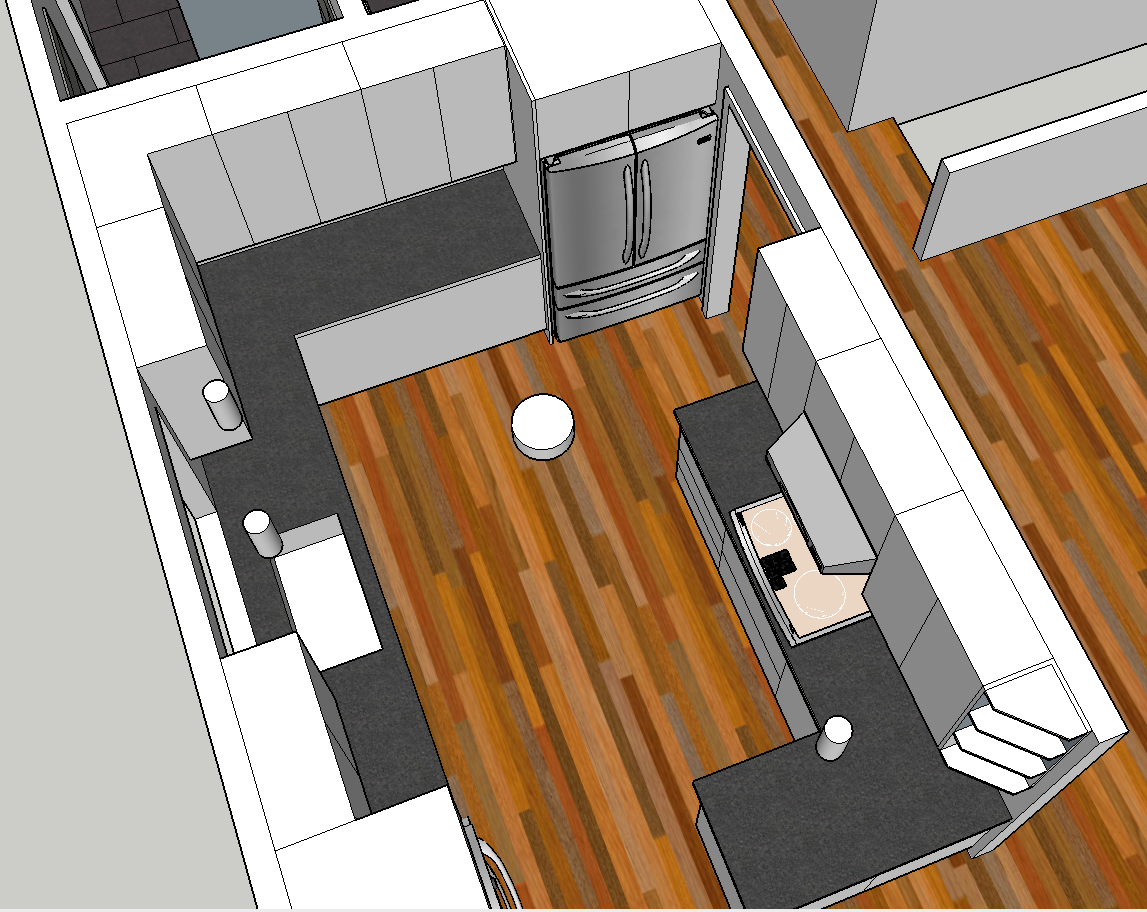 Now let's take a look at before and after the transformation!
Some of the design highlights from this project are the beautiful painted shaker style cabinet doors in a bright and welcoming coastal gray color.
The "Stellar Snow" quartz countertops add another layer of dimension that tie into the "Crystal Morning Mist" subway tile backsplash. We accented the backsplash with a striking detail band in "Haute-Brown Eyes Blue" color to bring a splash of color and dimension.
We used Armstrong Luxe "Rugged Brown" Flooring – a waterproof luxury vinyl plank flooring that can withstand the constant kitchen foot traffic. The under-cabinet task lighting adds function and warmth while the glass cabinet doors with interior cabinet lighting show off the decorative character of this kitchen. The Moen spot-resistant no-touch sink faucet add a modern twist. Finally, the decorative blue pendant lighting above the bar adds unique personality and flair.
Check out this beautiful range and hood we installed:
Now let's take a look at the bathroom! Here are the before and after pictures:
This bathroom went from dull and boring to vibrant and sophisticated! We added custom two-tone tile walls to the walk in shower, a mosaic tile floor, and dual shower heads for improved functionality.
Some other great features of this eugene bathroom remodel are the sliding glass shower doors and the heated tile floors. The vanity was transformed with a gorgeous beechwood stain, flat panel drawers and doors, and a Cendre quartz countertop, which creates a nice contrast in color. The satin nickel plumbing fixtures top off the sophisticated look of this bathroom remodel.
Here is what our clients had to say about their experience:
"Right from the beginning, Forrest is super easy to work with. He has a very pleasant, collaborative demeanor, which made us feel encouraged about things where we might have been apprehensive, but also providing valuable counterpoints when some of our ideas might have been unrealistic. He's very good at explaining things in a reassuring way, and offered several useful suggestions we hadn't considered on our own, both in terms of style and budget. It meant a lot to us being comfortable tossing around concepts and helping us to reach an overall plan and design choices that we were all happy with.

This also extends to everyone else we worked with on the various sub-tasks, from demolition & framing to electrical & plumbing to painting & finish work. Everyone was unfailingly polite & friendly, which made it much less stressful to have a steady succession of strangers coming into your home day after day for weeks. Getting to know some of them over time, it really seems like a great crew of people. Rich and Keith especially were super responsive and resourceful whenever we had questions.

That was also another super important item, being able to work with us to address any problems when they came up. For such a large & complex project, it would have been unreasonable to expect everything to go flawlessly the entire way, so when something didn't appear to be turning out like we thought it would, we weren't always sure if it was a 'real' problem or maybe we just hadn't realized that what we'd actually drawn up didn't align w/ how we'd been picturing it in our heads until things started to take more tangible shape. One example was the entryway to the kitchen not providing quite enough clearance to open the refrigerator door all the way, which wasn't evident until after the enclosure was built and the fridge finally installed. Forrest was quick to agree that needed to be fixed at no additional cost, even though it meant quite a bit of work to re-frame the doorway along w/ refinishing & painting (as well as redoing the floor in that spot) ~ just to increase the opening by a couple inches.

We're very happy with the quality of the work and extremely pleased with how it all turned out. There are only a few minor things we learned along the way or since living with them for a few months now that we'd choose to do differently, but we enjoyed working w/ Castile Construction and would gladly do it again. Thank you." -Mike

"This was our first remodel and turns out, a pretty ambitious project, but we were in expert hands the whole way. He personally met with us to review material choices, plans, and progress. His team was polite, punctual, and did a great job creating a home that we're very delighted with. With wisdom and experience, Forrest and his project leaders calmly led us through the multi-layered processes. Each anxious new step for us was answered with support and reassurance. This is a company that will make your project a success from beginning to end."-Laura
If you are ready to design and remodel your kitchen, bathroom or both, Contact Castile Construction today!