Bathroom Remodel in Creswell
Castile Construction is a local Bathroom Remodeling Contractor. On this page we introduce a recent Creswell Bathroom Remodeling project we designed and completed.
This couple came to us after recently purchasing an old farm house in Creswell, located on a beautiful piece of property overlooking the lake. For this couple everything was perfect except this hall bathroom; funky, dark and long over due for a remodel. This bathroom is now light, bright and spacious! It's crisp, natural and earthy feel is a great addition to this home and a perfect reflection of the couples outdoor, natural lifestyle.
The picture above shows the completed job, but the process began with a simple Bathroom Remodeling Sketch as shown below.
It can be hard to see the potential of your space especially when you are overly eager to start your remodel, such as this Creswell couple who had their bathroom demoed before we had our initial design consultation. Let's take a look at the space as it was when we were first invited into the home.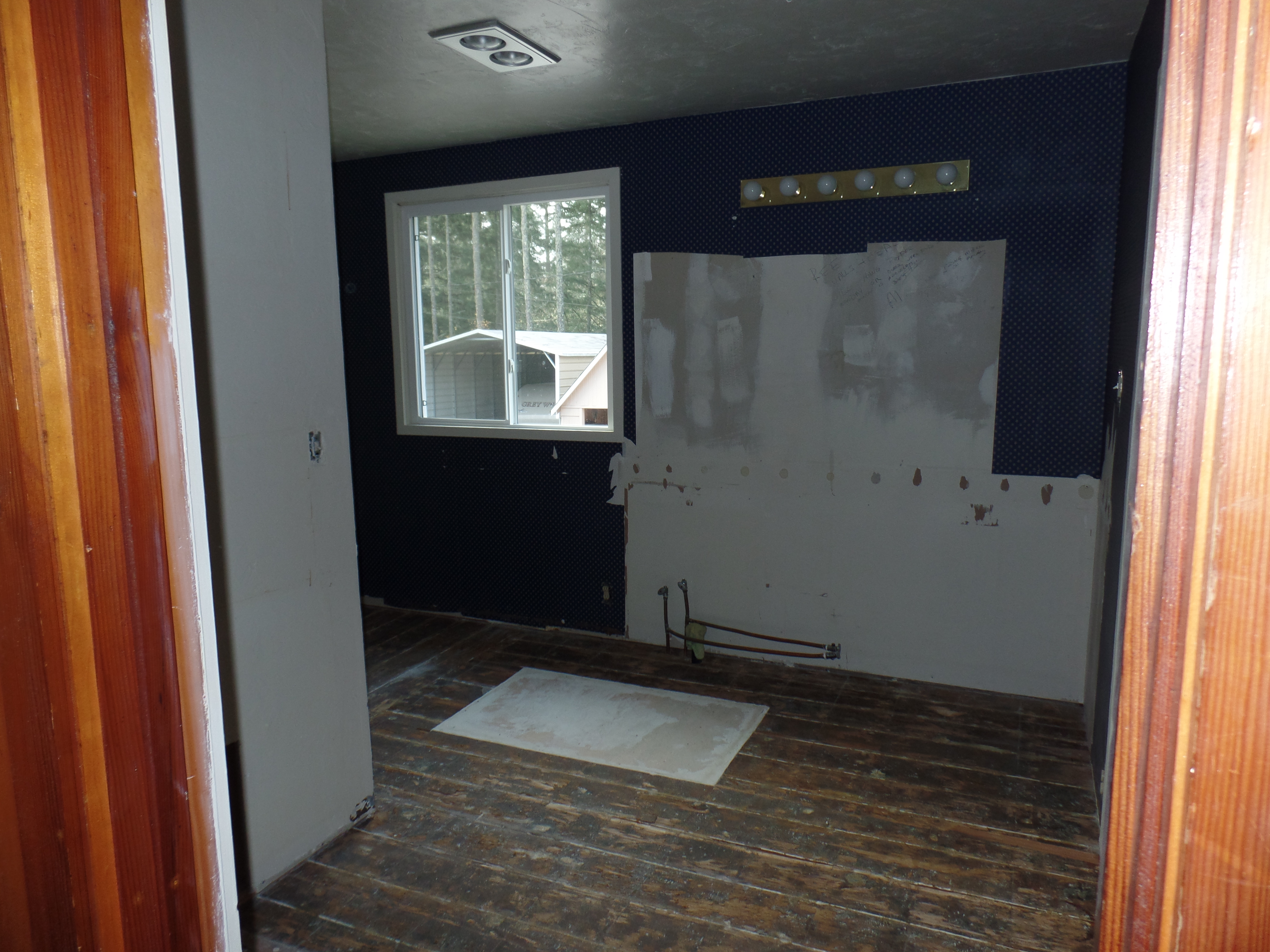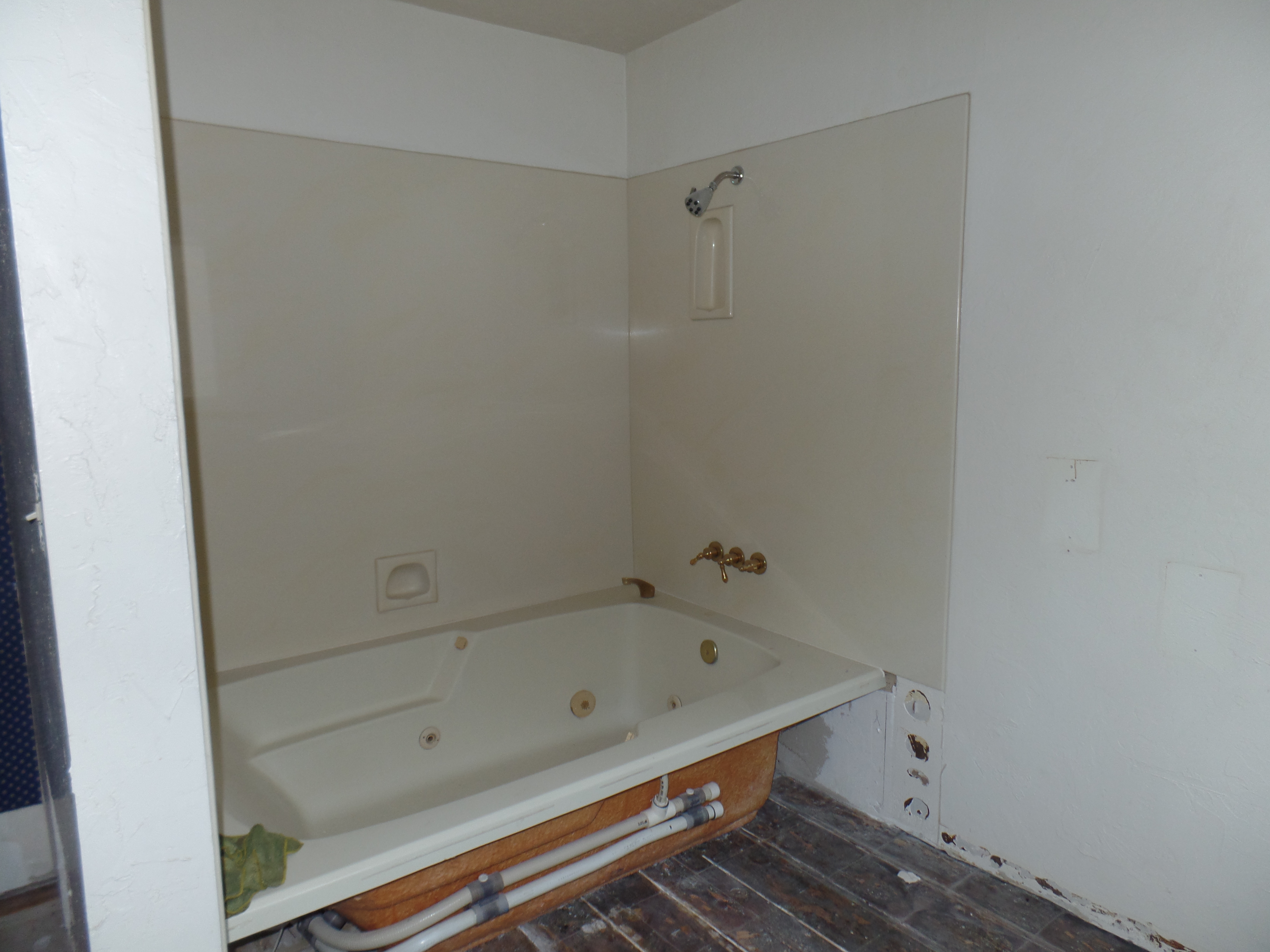 The homeowners chose to have a good size walk-in shower installed as well as a separate tub. This accommodated the needs and desires of each of the couple, as well as kept a space for the grand-kids to bathe when they visited and as the couple age, a shower that they can easily step into. By removing the wall enclosing the old shower/tub surround this room became open and spacious allowing for plenty of room for both the bathtub and shower.
By choosing light colored solid surface shower surround, neutral colored Luxury Vinyl Plank floor, and a light colored paint this space is now light and bright, allowing the natural sunlight coming in through the window to be enough to light the bathroom during the day. The bold color of the Cherry Shaker Cabinets allows this vanity to add a warm natural element to this space as well.
This bathroom is now a stunning addition to this old farm house and a perfect place to soak the day away! If you're ready for your long overdue bathroom remodel call us today! There's no need to wait until you decide to tear apart your own bathroom. We're happy to help before you've decided to get out your tools!
"Castile Construction was recommended to us by a friend and I am glad I took her suggestion and called them. Forrest is wonderful to work with; pleasant, responsive, good communicator and had clever solutions for our design challenge. The sub-contractors he used were very professional, did a great job and were really decent guys that we were comfortable having in our home whether we were there or not. Our bathroom came out beautiful and we are very pleased with the workmanship and design. We would not hesitate to call on Castile Construction for any work we needed done in the future. Call them, you won't be sorry." – Lauri from Creswell
"I am very happy with the way our bathroom turned out. Castile's attention to detail while addressing all our needs was very refreshing as opposed to other contractors we have used in the past. Castile's crews were professional and personable, while providing quality workmanship and an excellent finished product. We would not hesitate to use Castile Construction again and will suggest them to any who ask."  – Danny from Creswell